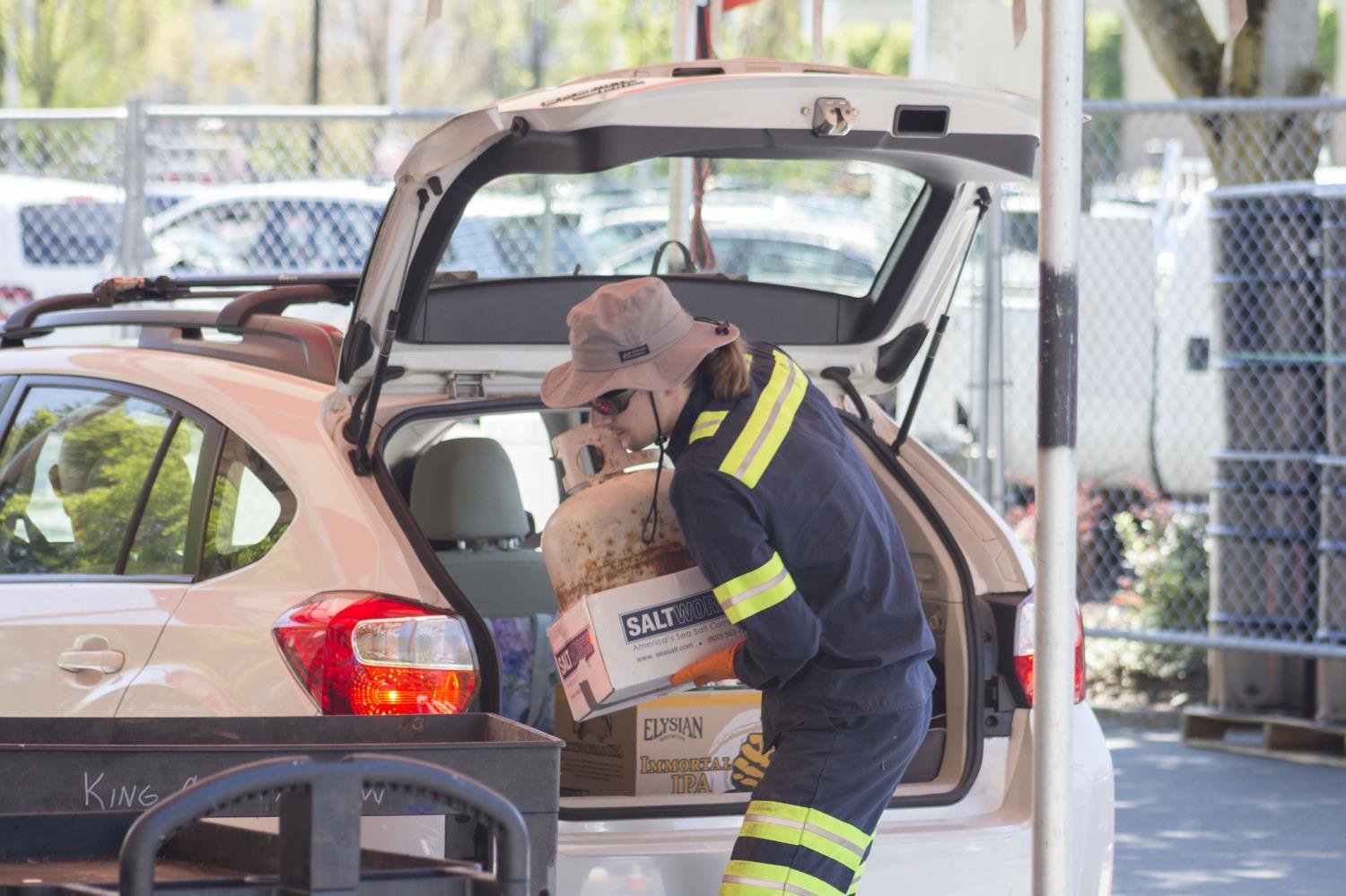 The Wastemobile, a mobile hazardous waste drop-off service, starts the 2023 season Feb. 24 in Bothell, WA.
From February to October of this year, the Wastemobile will visit communities around King County to provide easy, convenient, and safe hazardous waste disposal. The first Wastemobile event in 2023 kicks off at the University of Washington - Bothell campus (18115 Campus Way NE) in Bothell, WA February 24-26, 10 a.m. – 5 p.m. Check out the full schedule below.
What can you bring to the Wastemobile?
Residents and small businesses can safely drop off household hazardous waste such as oil-based paint, batteries, antifreeze, or pesticides to the Wastemobile at no cost.

Have hazardous products lying around your house? Before you go, check out a full list of accepted items and quantity limits for residents and eligible businesses.
About the Wastemobile:
Created in 1989, the Wastemobile was the first traveling hazardous waste collection program in the nation. Wastemobile events take place at rural, suburban, and urban areas in King County to provide more convenient options for safe disposal of hazardous waste. Since first hitting the road, Wastemobile events have collected more than 17,000 tons of hazardous household waste from nearly 500,000 customers.
For everyone's safety, please:
Do not mix products.
Keep products in their original containers.
Label products that are not in their original containers.
Secure products so they do not spill or leak.
Store hazardous products in the trunk of your vehicle, truck bed, or trailer, keeping them separate from items you wish to keep.
Stay in your vehicle and listen to directions from on-site staff while visiting the Wastemobile.
Questions about the Wastemobile? Connect with the Haz Waste Program's customer service team or call the Haz Waste Helpline at 206-296-4692.
Wastemobile Schedule:
| | | | |
| --- | --- | --- | --- |
| Dates | City | Address | Location |
| Feb. 24, 25, 26 | Bothell/Woodinville | 18115 Campus Way NE, Bothell 98001 | UW Bothell Campus |
| March 3, 4, 5 | Kent/Covington | 15635 SE 272nd St, Kent 98042 | Puget Sound Fire Station No. 75 |
| April 7, 8, 9 | Redmond | 17777 NE 76th St, Redmond 98052 | The Home Depot |
| April 14, 15, 16 | Bothell/Woodinville | 18115 Campus Way NE, Bothell 98001 | UW Bothell Campus |
| April 21, 22, 23 | Vashon | 17001 107th Ave SW, Vashon 98070 | Tjomsland Gravel Pit |
| May 5, 6, 7 | Kirkland | 12221 120th Ave NE, Kirkland 98034 | Fred Meyer |
| May 12, 13, 14 | Bothell/Woodinville | 18115 Campus Way NE, Bothell 98011 | UW Bothell Campus |
| May 26, 27, 28 | Kent/Covington | 15635 SE 272nd St, Kent 98042 | Puget Sound Fire Station No. 75 |
| June 2, 3, 4 | Enumclaw | 45224 284th Ave SE, Enumclaw 98022 | Enumclaw Expo Center |
| June 23, 24, 25 | Bothell/Woodinville | 18115 Campus Way NE, Bothell 98011 | UW Bothell Campus |
| July 7, 8, 9 | Snoqualmie | 34816 SE Ridge St, Snoqualmie 98065 | Cascade View Elementary |
| July 14, 15, 16 | Redmond | 17777 NE 76th St, Redmond 98052 | The Home Depot |
| July 21, 22, 23 | Des Moines | 22447 24th Ave S, Des Moines 98198 | Midway Elementary School |
| Aug. 4, 5, 6 | Sammamish | 232 228th Ave SE, Sammamish 98074 | Eastside Catholic School |
| Aug. 11, 12, 13 | Carnation/Duvall | 3600 Block of Tolt Ave, Carnation 98014 | Tolt-MacDonald Park: Boeing Mariner's Care Field |
| Aug. 18, 19, 20 | Bothell/Woodinville | 18115 Campus Way NE, Bothell 98011 | UW Bothell Campus |
| Sept. 8, 9, 10 | Kent/Covington | 15635 SE 272nd St, Kent 98042 | Puget Sound Fire Station No. 75 |
| Sept. 15, 16, 17 | Burien | 14300 1st Ave S, Burien 98168 | Fred Meyer |
| Oct. 6, 7, 8 | Redmond | 17777 NE 76th St, Redmond 98052 | The Home Depot |
| Oct. 13, 14, 15 | Renton | 440 Rainier Ave, Renton 98057 | McLendon Hardware |
| Oct. 20, 21, 22 | Bothell/Woodinville | 18115 Campus Way NE, Bothell 98011 | UW Bothell Campus |