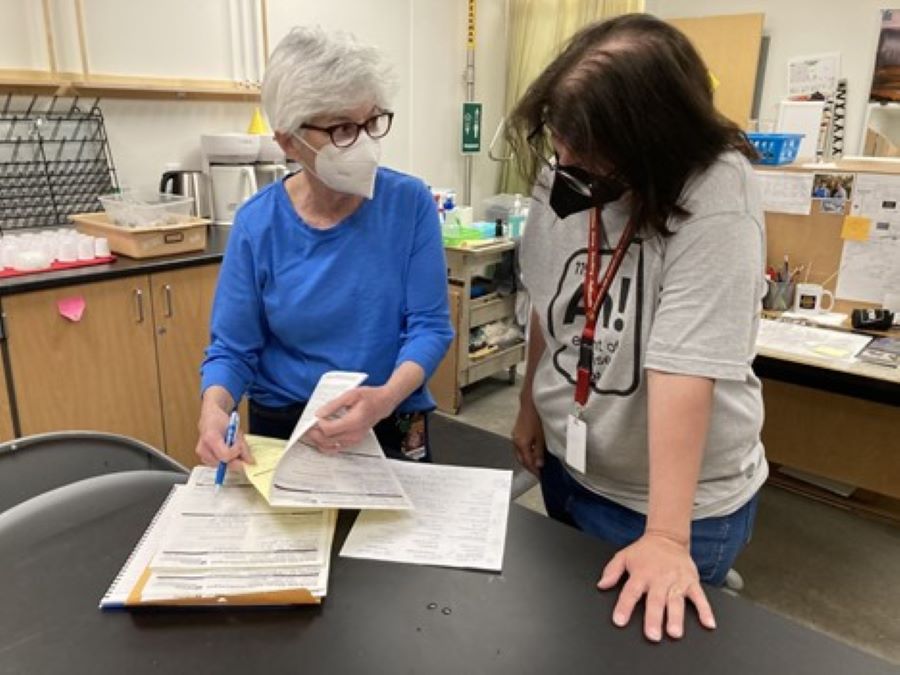 As the weather changes and kids settle into their classrooms, many will also don safety goggles, gloves, and lab coats. Future scientists in training may find themselves building aluminum air batteries, growing bacteria cultures, or experimenting with bioluminescence.

Hands-on exploration is part of the learning process. But science classrooms require the same safety of any lab, and the Hazardous Waste Management Program (Haz Waste Program) understands the importance of safely storing, using, and disposing of these classroom chemicals. And as students in science labs need a teacher to guide the way during hands-on experiments, the Haz Waste Program works to provide guidance for teachers and students in the disposal of hazardous materials used in their classrooms.

In 2018, the Haz Waste Program's Business Services and Collections teams partnered with the Puget Sound Workers' Compensation Trust (PS WCT) to develop a hazardous waste disposal guidance document for schools across the region.

"Most schools don't have a safety management system in place," says Elizabeth Jakab, Industrial Hygiene Consultant with PS WCT and the Unemployment Pool, which is part of the Puget Sound Educational Service District.

A chemist by training, Elizabeth recognizes that good practices start young. Working in partnership with the Haz Waste Program, she helps provide technical assistance to schools looking to improve their management and disposal of hazardous chemicals. She advises on safer chemical options, best practices, and provides training to school science staff. The Haz Waste Program, meanwhile, provides financial incentive vouchers, spill kits, and personal protective equipment. In this way, the two work in synergy to improve chemical safety and reduce chemical exposures in schools.

"Many schools are overstretched and don't have risk managers or safety managers of their own. There's also been a tremendous turnover of staff," says Elizabeth. "We have good relationships with districts and can help them implement safer practices for the benefit of their students and staff."

The idea for the guidelines grew out of several missteps Elizabeth witnessed five years ago, when a school district improperly packaged chemicals for a drop-off site, creating a hazardous waste management issue.

"The guidance that small businesses and schools usually receive on hazardous waste management is generic and advises them to reduce waste and keep incompatible chemicals separated," says Elizabeth. "On the other hand, the Department of Ecology's guidelines are very complicated. We wanted something that would be easier for school districts to make sense of."

The guidelines PS WCT and the Haz Waste Program developed aim to bridge that gap.
Promoting chemical safety can take time, but already Elizabeth has seen the benefits of this work. Last school year, the Enumclaw School District properly disposed of 105 gallons of hazardous waste, including such high-hazard chemicals as nitric acid and strong oxidizers. This fall, they hired a new Chemical Hygiene Officer to continue to manage science lab safety.
Elizabeth is hopeful that with continued effort and strong relationships with King County school districts, she can help to foster safer classrooms.

To learn more about the guidelines and our work with school districts, contact the Haz Waste Program.