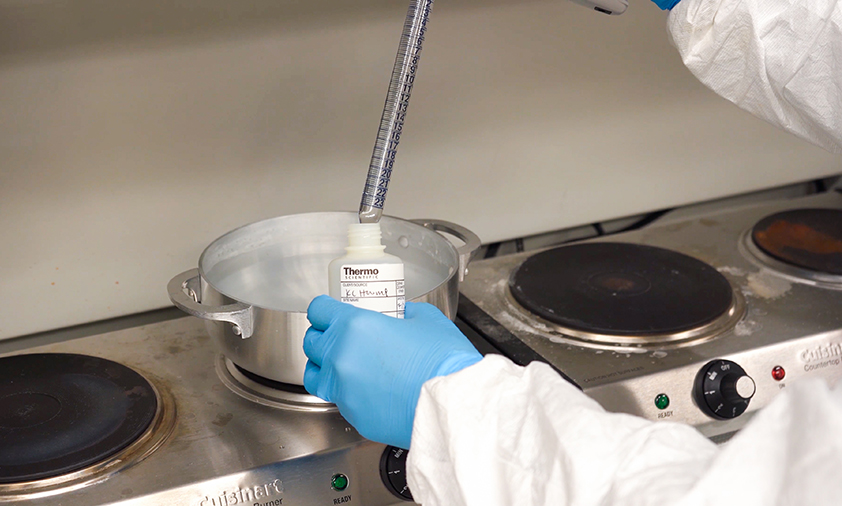 A new study shows some imported aluminum cookpots and pressure cookers could pose a serious risk for lead poisoning
May 11, 2022

Childhood lead poisoning is a preventable, non-infectious disease, yet it remains one of the most common childhood health problems worldwide. The Hazardous Waste Management Program (Haz Waste Program) works with local partners to reduce exposures to prevent lead poisoning. We provide in-home environmental assessments to newly arrived refugee families to identify sources of possible lead exposure. It was through this collaborative work with partners, like the Afghan Health Initiative, that we discovered aluminum cookpots and pressure cookers often brought to the U.S. from Afghanistan can be a source of lead exposure.
While this problem was first identified in aluminum cookpots used in the Afghan refugee community, our Haz Waste Program Research team found that some aluminum cookpots and pressure cookers purchased and used by other people living in the U.S. may also result in lead exposures.
The study, done in collaboration with the Department of Environmental and Occupational Health Sciences at the University of Washington, revealed that several aluminum cookpots released enough lead under simulated cooking and storage conditions to present a significant risk for lead poisoning. This finding is especially important for children and people who are pregnant or breastfeeding because of the effects that lead can have on brain development. We published our findings this month in the Journal of Exposure Science and Environmental Epidemiology.
While lead poisoning is a serious concern, our researchers fortunately identified several solutions. In further tests, we found that stainless steel cookpots and pressure cookers contain much lower lead levels and are safer alternatives. Aluminum cookware that is certified by NSF International also contains low levels of lead and other toxic chemicals.
If you are unable to replace aluminum cookpots or pressure cookers, try these no-cost or low-cost solutions to reduce lead exposure:
Cleaning
Wash cookware with warm water, a delicate scrubber, and mild soap. Rinse thoroughly and dry immediately to avoid corrosion.
Never use steel wool or abrasive or corrosive cleaners on aluminum cookpots or pressure cookers.
Avoid using the dishwasher for aluminum cookware as some dishwasher detergents can be harsh, especially when used with very hot water.
Cooking
Avoid cooking very acidic foods like vinegar and tomatoes in aluminum cookware.
When cooking with aluminum pots or pressure cookers, use wooden or silicone utensils. Using metal utensils can damage the cookware's surface.
Only cook on medium heat. Aluminum conducts heat efficiently, so there is no need to cook on high heat.
Storage
Store cooked food in BPA-free plastic or glass containers, rather than leaving food in the cookpot or pressure cooker.
Use a pot rack or pan protector to store your cookpots, rather than stacking them on top of each other.
Disposal
Most aluminum cookpot and pressure cookers can be recycled at City of Seattle and King County transfer stations for no charge. Please see specific disposal information for Seattle and King County.
In addition, concerned parents and guardians may choose to get their child tested for lead exposure. You can contact your healthcare provider about a lead exposure screening and the need for a simple blood test to determine lead levels.
Our commitment to human health and anti-racism is why we collaborated with Public Health – Seattle & King County to help refugee families prevent exposure to sources of lead in the home. With assistance from the Afghan Health Initiative, staff offer services such as in-home lead assessments, sample collections, nutritional and developmental screenings, and referrals to community resources.
"We understand how dangerous and common lead poisoning is in immigrant and refugee children," says Ariana Anjaz, Senior Director at the Afghan Health Initiative. "In partnership with Haz Waste Program, we are helping to prevent exposure to lead by working with families of children entering the United States with elevated blood lead levels. This work includes testing spices, cookware, and other products for toxic metals and helping some families swap out contaminated pressure cookers and cookpots with suitable and safer options like stainless steel cookware."

The Haz Waste Program continues to support programs in King County and Washington state that address lead poisoning. In addition to imported aluminum cookpots and pressure cookers, lead is present in other common sources like lead-based paint and dust, glazed ceramic dishes, spices, traditional medicines, makeup, and jewelry.
Lead poisoning is a problem that is not unique to our region. Because of the potential impact on a broad population who may purchase imported aluminum cookware, we have shared our data with the Food & Drug Administration and the U.S. Consumer Product Safety Commission, too. As a result of King County's leadership on this issue, federal-level conversations are now underway.
"We very much appreciate the support of the local Afghan community, which allowed us to do this research," said one of the study's authors and researcher, Steve Whittaker. "Our need for this data is not unique. Lead poisoning is a problem national in scale and the Haz Waste Program is sharing this research so these findings can support the health of children of all backgrounds across the country."
Check out these additional resources about lead and ways to reduce exposure:
Thank you to our partners who contributed to the study:
Study co-authors Katie Fellows, Shar Samy, and Yoni Rodriguez