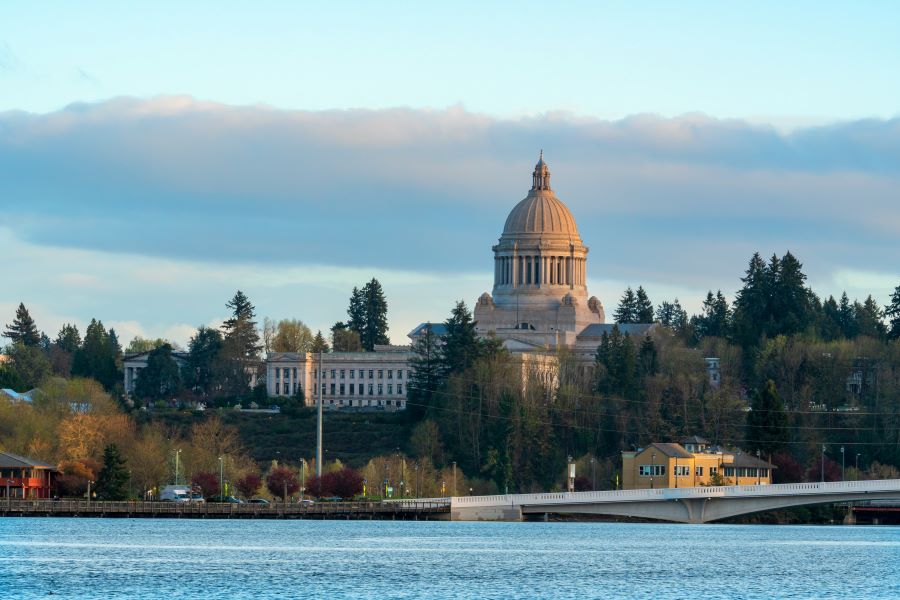 At the Haz Waste Program, we talk a lot about what you as an individual can do to safeguard yourself and prevent exposure to hazardous materials. But that's not the whole picture. We also know we must support system-wide changes that promote safer alternatives, remove exposure to hazardous products, and protect the health and safety of our region's people and ecosystems.

Washington state legislature's 2023 session began on January 9, 2023. Get to know some of the hazardous waste-related policies the Program is keeping track of throughout this year's session. And be sure to follow along with us in the coming months for updates on the progress of these bills.
What we're tracking as of January 2023
Extended producer responsibility (EPR) & product stewardship
The issue: Many manufacturers, importers, and suppliers introduce new products that contain hazardous materials with little understanding of what happens when these products are no longer useful. Hazardous chemicals and products can threaten human health and the environment even after they have outlived their usefulness or are thrown away. Local government agencies often bear responsibility to dispose these products, to the tune of hundreds of thousands of dollars in storage and safety measures each year. These costs are then passed onto individual utility ratepayers.
The solution: Extended producer responsibility (EPR) policies shift responsibility back to producers of hazardous products, reducing public costs for disposal and motivating producers to create safer, less wasteful products in the future.

The Program supports consideration of EPR-centered legislation in Washington state in 2023, including:


Battery recycling legislation for all battery formats, including electric vehicle batteries (SB 5144).


Current status: Bill introduced in WA State Senate


What it might mean for you: Confused about what to do with dead or unusable batteries? Rightfully so – our current disposal options make things pretty complicated. If passed, a battery stewardship program funded by battery manufacturers would provide residents with more convenient, accessible ways and information to help dispose of various types of batteries. Better battery disposal could also reduce environmental pollution and fire risks from batteries ending up in landfills, promoting workers' safety and reducing government costs for storage and management.
Repeal of the 2025 sunset provision in the mercury-containing lights product stewardship program (HB 1185)


Current status: Bill introduced in WA State House




What it might mean for you: Since 2015, Washington residents have had a range of available options for safely disposing mercury-containing lights, lamps, and bulbs through a product stewardship program funded by manufacturers of those products. Current state law will end this program in 2025. Yet, mercury-containing light products continue to be produced today. Adapting policy to allow the program to operate in turn would offer consumers safe disposal options for hazardous mercury-containing products and keep toxic mercury out of municipal waste streams and natural environments for years to come.

Making widely available cosmetics and personal care products safer

The issue: Since hazardous substances are rarely disclosed as product ingredients or as hazardous, people often can't tell which products might expose them to harmful ingredients and which are safer to use. We must ensure consumer products are as safe as possible.
The solution: One way to do this is through policies aimed at reducing hazardous materials in widely available and popular products, including cosmetics and personal care products.
In 2023, the Program is tracking a bill proposing:
Elimination of hazardous materials in cosmetics and personal care products (HB 1047)

Current status: Bill introduced in WA State House
What this might mean for you: If this bill passes, it would restrics the manufacture, sale, and distribution of cosmetic products containing nine chemicals or classes of chemicals, including lead, phthalates, and even mercury. In the future, when you are shopping for cosmetics or personal care products in Washington, you would be able to shop with ease, knowing what you purchase and use on your bodies would be as safe as possible and contain little to no hazardous materials that might put your health at risk.
What we're looking ahead to in hazardous waste policy
In the coming weeks, the Program anticipates the introduction of additional bills and policy proposals in the Washington state legislature to further address hazardous waste, including:
A budget proviso to regulate the amount of lead allowed in cookware manufactured, sold, and distributed across the state, which would help reduce lead's harmful impact on people's health at one of its sources, cookware and cookware parts.
"Right to repair" legislation that would allow residents and businesses to freely repair home electronics, appliances, automobiles, and other products, with less reliance on the producers that make them for repair. Currently, manufacturers use a variety of tactics to prevent consumers from repairing their own products, which leads to stifled competition, products wearing out earlier than expected, and increased waste.
This list does not capture every bill or issue the Program is monitoring throughout the legislative session, but it does illustrate our priority impact areas where policy related to hazardous waste could affect the health and safety of all who live, work, and play across Washington state and our region.
To learn more about other upcoming state and federal policies and issues surrounding chemical and hazardous waste prevention that the Program supports in 2023, you can download and read the Program's full 2023 Legislative Agenda through the Haz Waste website.