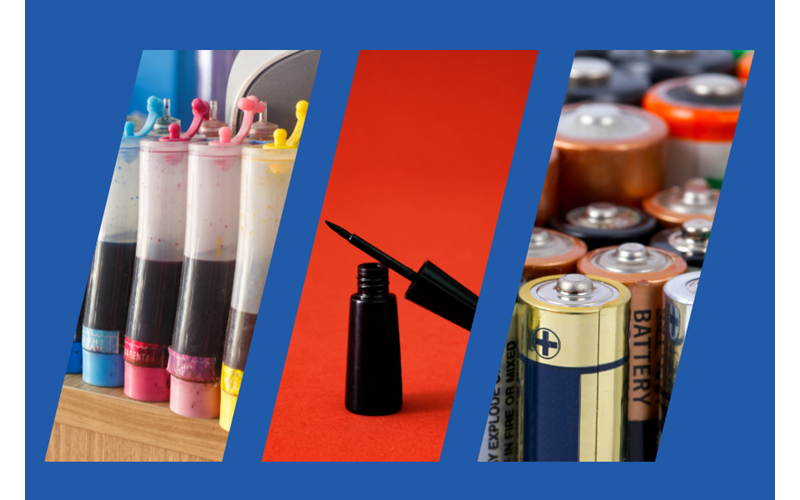 Published April 26, 2023. Last Updated May 15, 2023
Many common household products contain harmful chemicals and should not be on the market. There are other household products that may not present an immediate risk to human health, but still need to be safely managed to protect the environment. From the eyeliner and other makeup in your bathroom, to the ink of your newspaper, and the batteries in your appliances – cosmetics, paints, pigments, and batteries are commonplace in our homes and can contain harmful materials. Thankfully, new Washington state legislation is taking action to protect residents.
The new legislation includes the following safeguards:
New Ban on Hazardous Materials in Cosmetics
House Bill 1047 would ban the sale and distribution of cosmetics and personal care products that contain toxic materials linked to harmful impacts on health, such as cancer, birth defects, damage to the reproductive system and more. The ban would include cosmetic products formulated with the intentional addition of lead, phthalates, mercury, formaldehyde, microplastics and nanomaterials.
Consider lead as an example, and its sometimes-tragic impacts for people who are pregnant or breastfeeding. People who are pregnant and breastfeeding, and who have high levels of lead, may experience miscarriage, stillbirth, or premature delivery. After birth, their children may experience harmful effects to the developing brain such as learning and behavior problems.
Toxic chemicals in cosmetics also impacts our ecosystem. The chemicals addressed in this bill have very short lives as products. Most cosmetics are washed-off after one day of use and the chemicals in these products can be discharged into our environment and accumulate in local wildlife.
In Washington state, the ban would begin January 2025, with in-state retailers having until January 2026 to sell their existing stock.
Want cosmetics advice now? Until this ban goes into effect, residents can choose safer cosmetics by using the Skin Deep database, a search tool created by the Environmental Working Group.
"Everyone in King County has the right to safety in our own homes and in our neighborhoods. People need to be able to protect themselves and their families. But, they don't always recognize harmful materials in common products as the dangerous intruders that they are. We shouldn't need a degree in chemistry to keep our families safe! From an equity perspective, we need this type of systems-level change to promote safer alternatives and remove exposure to hazardous products."

- Dave Ward, Policy and Planning Manager, Hazardous Waste Management Program in King County
Update: The Governor signed HB 1047 on May 9.
Expanding the Ban on PCBs to Paints and Printing
Wherever cancer-causing PCBs (or polychlorinated biphenyls) exist, they release chemicals into the air, water and soil. As a result, PCBs can accumulate in leaves and above-ground parts of plants and food crops, as well as in the fish people eat. PCBs can also cause serious health effects and harm people's immune, reproductive, and nervous systems.
Senate Bill 5369 would add new protections against PCBs in consumer products like paints, inks, and pigments. Until the widespread-but-not-complete ban of PCBs in 1979, manufacturers used PCBs in everything from electrical insulation to televisions and refrigerators. Despite the ban, PCBs still cause harm to this day. In part, that's because of illegal dumping, leaking, and leaching at landfills and other sites. And in part, that's because PCBs can still be "inadvertently" generated as part of the manufacturing process of products – a prime example is with paints, inks, and pigments that may not have had safer alternatives in 1979 but do today.
The new legislation would direct the Washington State Depart of Ecology to petition the U.S. Environmental Protection Agency to reassess PCB regulations and establish these additional restrictions by 2025.
Update: The Governor signed SB 5369 on May 9.
Safe Battery Recycling—including EV Batteries
Residents need safe ways to recycle batteries. When some batteries aren't properly disposed, they can release toxic materials into the environment, cause fires, or harm the health of workers at solid waste facilities. Knowing which battery has which danger is too much to ask of residents—and the Washington legislature, through the passage of Senate Bill 5144, would create a single program that safely collects all types of batteries.
The legislation would require each producer selling batteries or products that contain batteries in Washington state to participate in an approved Washington state battery stewardship plan, including funding of the program. This requirement would take effect in January 2027.
"The new Washington state battery stewardship plan is an important step for battery manufacturers to plan ahead for when their products are no longer useful. It's not fair to leave it to the user who may have little information or knowledge about the chemicals in batteries, and it's not fair to taxpayers for manufacturers to leave the cost to local governments to deal with end-of-life consequences."

- Tristen Pamphlet-Gardner, Policy Liaison, Hazardous Waste Management Program in King County
Washington residents want safe products. In fact, 95% of respondents expressed concern about toxic chemicals in consumer products, in a 2022 poll. (Source: Washington State Department of Ecology.)
Update: The Governor signed SB 5144 on May 11.