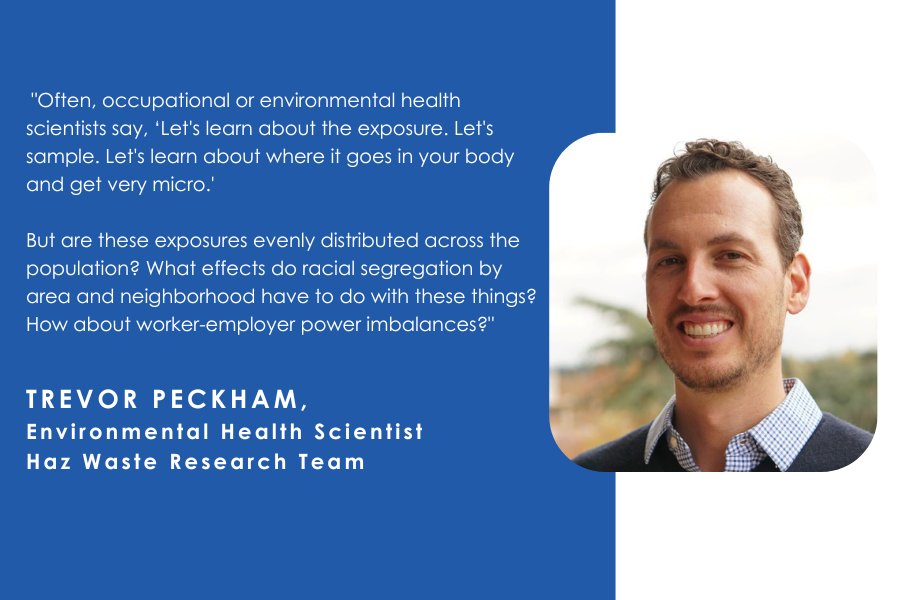 Meet Trevor Peckham, Environmental Health Scientist
Understanding how people are exposed to hazardous waste on an individual level is one part of the work we do at the Hazardous Waste Program (Haz Waste Program). Get to know Trevor Peckham, an Environmental Scientist on the Haz Waste's Research team, and learn more about his efforts to apply racial equity principles to research, helping to understand the bigger picture about how hazardous waste impacts frontline communities.
Trevor Peckham says his career began with "a common trope:" He was a biology major at UCLA on a pre-med track, "and then I was kind of a little confused about where to go from there."
A series of opportunities led Peckham in a different direction, one that would eventually lead him to working on a one-of-a-kind study at the Hazardous Waste Management Program.
Peckham's path from would-be medical doctor to environmental health scientist began after college, when he landed at an environmental consulting firm. His boss there was an expert witness in the case made famous by the movie "Erin Brockovich," about a paralegal who took on a major utility company over groundwater contamination. Through that job, he was introduced to the field of environmental health. And he was hooked.
"I think the interface between society and the environment is one of the most important issues of our time," he says. "And I like the public health mentality, because it's very systems-based and high level. It's not individualized or biomedical, like, 'You have a cough today. I'm going to prescribe you this.' It's like, 'Why are you coming in all the time with coughs? What's your living situation? What is society's impact on your health?'"
Peckham decided to go back to school at the University of Washington to pursue master's degrees in environmental health and policy. After working as an occupational health researcher for a year, Peckham's interest in the subject pushed him to pursue a PhD in Occupational and Environmental Health. It was his research on workplace health disparities that brought him to the Haz Waste Program.
"The urge to try to integrate equity into traditional research approaches is a particular interest of mine. Often, occupational or environmental health scientists are like, 'Let's learn about the exposure. Let's sample. Let's learn about where it goes in your body and get very micro,'" Peckham says. "But are these exposures evenly distributed across the population? What effects do racial segregation by area and neighborhood have to do with these things? How about worker-employer power imbalances? If I'm a worker who's undocumented, do I really have the ability to say, 'This is too dangerous for me'?"
Those have been the driving questions for Peckham's work at the Haz Waste Program. Since he joined as an environmental scientist in 2020, he's been focused on a study that uses a unique methodology to evaluate occupational hazards by workers' racial and ethnic backgrounds. This study combines King County census data with information from a database called the Canadian job-exposure matrix (CANJEM), a research tool that estimates the risk of hazardous exposures across specific industries.
Peckham's study, with contributions from fellow researchers Shelley Stephan-Recaido and Marissa Baker, estimates that hundreds of thousands of King County workers face hazardous materials exposures while on the job. Most commonly, workers are exposed to chemicals in cleaning agents, organic solvents, and biocides.
Notably, the study estimates that when it comes to many workplace hazards, Black, Indigenous, and People of Color (BIPOC) workers are more likely to encounter exposures than non-Hispanic white workers. Peckham attributes that estimate to "occupational segregation," which describes the unevenness in how certain races or ethnicities are represented within different job types.
In other words, some of the industries with disproportionately high exposure risks tend to be industries with more BIPOC workers. The impacts of hazardous waste exposures on human health connect to broader, systemic issues affecting our society.
"There's a deep sociological and industrial-relations literature on why occupational segregation happens, and it's multifactorial," Peckham says. "But part of it is racism, and unequal economic opportunities for different groups of people, including by race and ethnicity."
There are limitations to the study. Peckham points out that the job-exposure matrix is based on Canadian data – a comparable set of data for King County doesn't exist – and that the data on job exposures can "get stale" as the economy shifts and industries change over time.
"Nevertheless, I think the data are definitely aligning with a lot of what [the Haz Waste Program] does now, so there's plenty to take from it," he says. "And it's surely an example of marshalling the best data available for the question that you want to ask. And in almost all cases, that exercise leads to imperfect matches between the data and the question."
As a young pre-med student at UCLA, Peckham probably didn't think he'd be poring over numbers for a coalition of partners managing hazardous waste. But in his three years with the Haz Waste Program, he's already making significant contributions to the Program's racial equity vision: that race is not a determinant of hazardous materials exposure in households and businesses in King County. After all, understanding how people in our region may be exposed to hazardous waste is the first step in identifying and applying solutions that help achieve that vision.