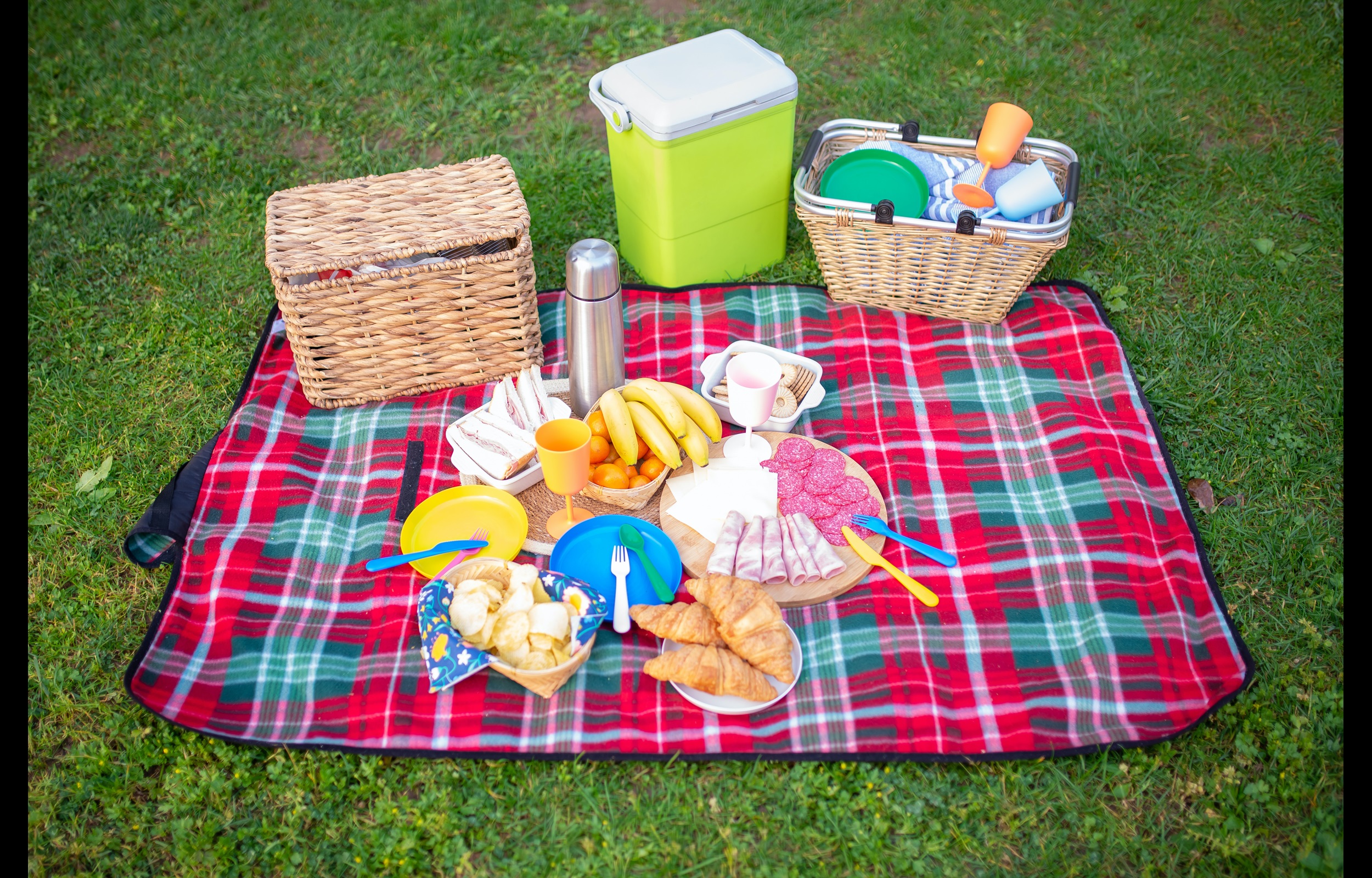 Searing steak? Charring some corn? The key to a great summer cookout is often the iconic grill. But no picnic or party is complete without the right preparations, from start to finish.
When you clean up and then safely dispose hazardous and solid waste, you help preserve the environment around you. Simple steps today can keep your favorite picnic spots lush and thriving and your cookout areas grill-ready all year round.
It's Plastic-Free July, so the Hazardous Waste Management Program teamed up with our friends at King County Solid Waste Division to share tips below for eco-friendly outdoor eating at all stages of your next barbeque or picnic party.
Before: Set up your table (or blanket) with sustainable solid waste solutions
Even before guests arrive and food and drinks are served, you can make sustainable swaps in your setup to reduce solid waste.
Ditch single-use décor
Balloons, plastic tablecloths, ribbons, bows and other single-use decorations are not recyclable and can go in the garbage. Smaller decorations can also get loose in the breeze and end up in rivers, lakes, and forests where they can harm wildlife and habitats.
Here's a fun idea: Make your own tablecloth out of craft paper or newspaper! Your guests can doodle a design and you can reuse the paper for gift wrapping later. Or simply recycle the paper when the party ends. Fabric tablecloths are also a great option that can be washed and reused.
Use durable utensils and napkins
While plastic utensils seem like a convenient choice, consider the collective impact on our environment. Single-use products take resources and energy to make and transport, and then wind up in the landfill after one occasion. When you're setting up for your meal, provide durable utensils that can be washed and reused for many parties to come. Used or soiled paper napkins can be composted, but cloth napkins are the best choice.
Add a little fun into the mix. Consider asking guests to bring their own cups and turn it into a friendly competition to see who has the most unique, funny, or on-theme cup.
After: Clean up after your gathering with easy waste sorting
After drinks have been guzzled and food has been gobbled, make cleaning up a breeze with a waste sorting station. Designate four areas for compost, recycle, garbage, and hazardous waste and have everyone pitch in to help with proper sorting. We'll start you off with some common items.
Compost any food scraps including meat, cheese, and bones, and soiled paper napkins.
Recycle cardboard, plastic bottles and tubs, glass bottles and jars, and metal cans. Make sure these items are empty, clean, and dry!
Trash any non-recyclable plastics like cling film, chip bags, candy wrappers, and lids that are smaller than 3 inches. Also, items that are soiled or have food residue on them like a ketchup bottle that you haven't rinsed out. You can also put empty 1 to 2 lb. propane tanks and empty Sterno cans in the garbage.
Bring these items to a hazardous waste collection site:

Full, partially full, or empty propane and butane tanks less than 8 gallons. Small (1 to 2 lb.) propane tanks that are empty can go in the garbage. Propane tanks larger than 8 gallons can be returned to the manufacturer or to a Blue Rhino location.
Match-light charcoal.
Full or partially full Sterno cans. Please do not bring empty Sterno cans to a hazardous waste collection site. Empty Sterno cans go in the garbage.
Have an item you don't know how to get rid of? Use these resources to help:
You don't have to do it all or do it perfectly every time, but taking a few short-term steps before and after your summer barbeque or picnic to reduce, reuse, and properly dispose of waste helps protect the people and natural resources of our region in the long-term.